Another one from Skippy.

Take the quiz: "Your Psych-Ward diagnosis"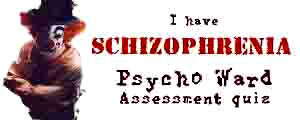 Schitzophrenia
Diagnosis: Schizophrenia.
A psychotic disorder characterized by loss of contact with the environment, by noticeable deterioration in the level of functioning in everyday life, and by disintegration of personality expressed as disorder of feeling, thought (as in hallucinations and delusions), and conduct -- called also dementia praecox.